Sitting down to watch the 1978 movie musical Sgt. Pepper's Lonely Hearts Club Band, one can only imagine the clash of egos that must have taken place on the set, given that the film starred the Bee Gees as the title characters with Peter Frampton as Billy Shears. At the time, the former had triggered a pop culture explosion with their music for the soundtrack of Saturday Night Fever while the latter had released the double album Frampton Comes Alive!, which remains one of the best-selling live albums of all time.
So, an explosion of egos?
"You're totally right," laughs Michael Shultz, the director of Sgt. Pepper, who has continued to shift back and forth in working on films and television. "The Bee Gees, bless their heart, made Peter Frampton's life miserable. There was such a rivalry, not so much on his part, because he was like the fresh kid on the block with a gazillion-selling record album. But the Bee Gees just thought that his music was pablum — or whatever they thought — yet they managed to get past that and work together.
"I never had to have a conversation with the Bee Gees about it," he emphasizes. "I just kind of focused them on getting their performances as realistic as possible. Basically to focus on themselves. Rather than the egos of actors being the problem, it was more of a music thing. It just happened to be those particular groups that were a little envious of the success of another. This was a Robert Stigwood production and while the Bee Gees was his group, Frampton was not. I don't know what the inner dynamics were when their manager told them they were going to be the band, but Frampton as Billy Sheers would be the focus. It was never a big thing; I just saw the dynamics and it was more of a subtle thing than an overt one, so it never really interfered with what we were doing."
Robin Gibb Should Not Have Said That!
That being said, if you want an example of hubris crystalized, look no further than this comment from the Bee Gees' Robin Gibb, who at the time said, "Kids today don't know The Beatles' Sgt. Pepper. And when those who do see our film and hear us doing it, that will be the version they relate to and remember. Unfortunately, The Beatles will be secondary. You see, there is no such thing as The Beatles. They don't exist as a band and never performed Sgt. Pepper live, in any case. When ours comes out, it will be, in effect, as if theirs never existed. When you heard The Beatles do 'Long Tall Sally' or 'Roll Over Beethoven,' did you care about Little Richard's or Chuck Berry's version?"
Oops with a healthy dose of ouch.
"One of the downfalls of the movie," notes Schultz, "at least according to critics in North America and England, was that they were PO'd that the Bee Gees were trying to be The Beatles, and certainly a comment like that from Robbin Gibb didn't help. That was the biggest criticism of the movie, but that's not what the movie was about at all."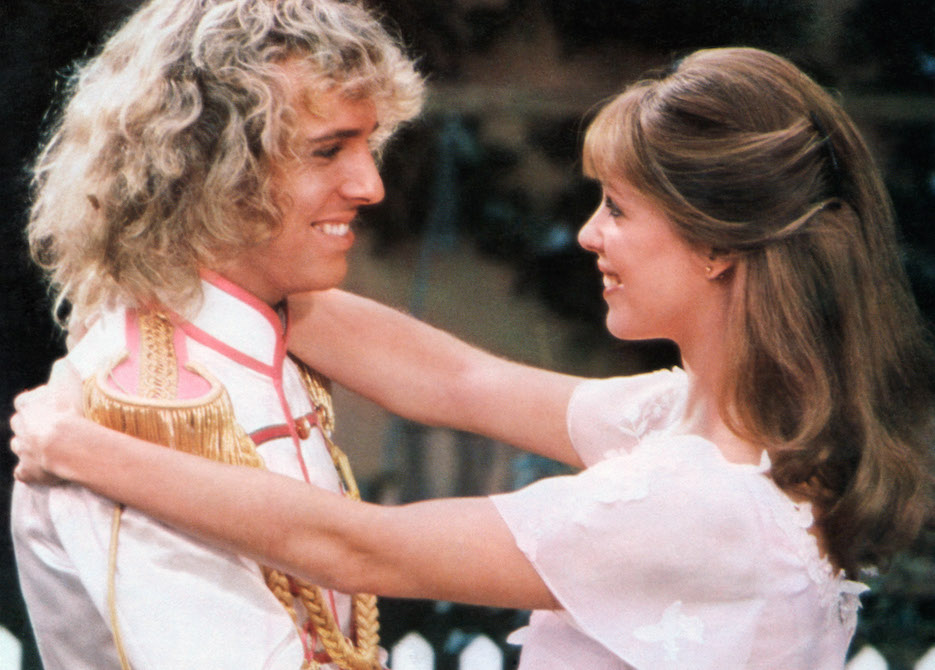 What it is, is described by Wikipedia this way: "Depicting the loosely-constructed story of a band as they wrangle with the music industry and battle evil forces bent on stealing their instruments and corrupting their hometown of Heartland, the film is presented in a form similar to that of a rock opera, with the songs providing 'dialogue' to carry the story."
Elaborates Schultz, "The whole setup for this film was more like a fairy tale, which was the concept Stigwood had developed before I got involved, and that's what we went with. So there's this mythical mid-American town, and Mean Mr. Mustard, who's a weird English comic and supervillain, but very goofy. That was all kind of built into the package when I signed on to the job."
Stigwood had acquired the rights to 29 Beatles songs, mostly from the albums Sgt. Pepper's Lonely Hearts Club Band and Abbey Road, and it fell to screenwriter Henry Edwards to construct the story that tied all of those songs together. And besides the musicians discussed above, songs were brought to life by Steve Martin, in what was his first movie role that saw him singing "Maxwell's Silver Hammer;" George Burns, who was coming off of the success of the Oh, God films, as the narrator; and newcomer Sandy Farina as Billy Shears' love interest, Strawberry Fields.
"Steve wasn't a musician, he was a comedian with a natural acting talent, so that sequence was easy," says Schultz. "Having musicians act is asking them to step out of their comfort zone for the most part, so that was the most challenging part. George Burns was really interested. He had the only speaking part in the movie and served as the narrator of the story, but he wouldn't do it unless he could have a number to perform. So we had him do a soft-shoe version of 'Being for the Benefit of Mr. Kite,' and he loved it. He had such a great time doing it. And Sandy Farina had never been in a movie before, so it was a big deal and she was probably scared to death.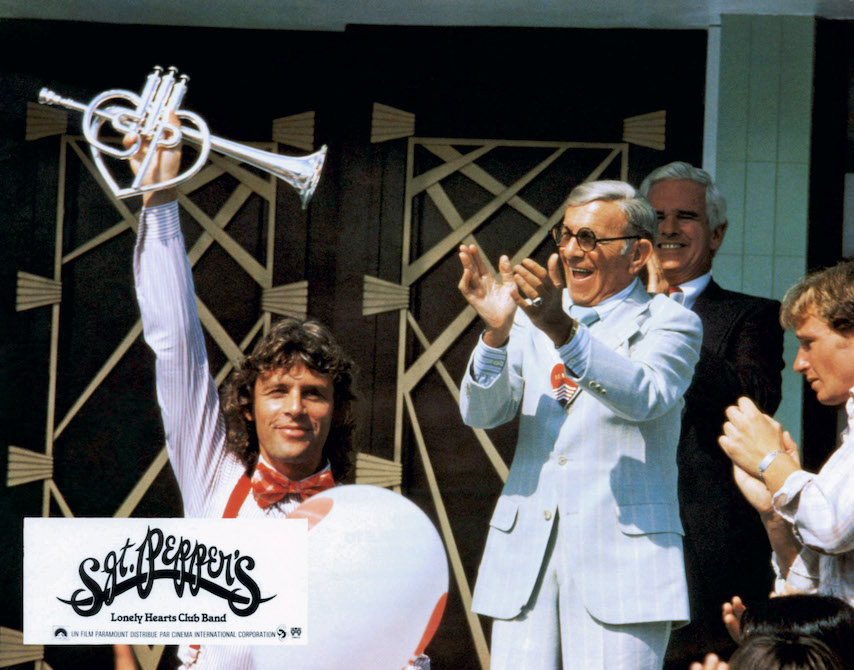 "What I remember," he continues, "is that the big musical sequences went smoothly, but there were other scenes that we were doing that only had a few people like Strawberry Fields and her parents in the house and we wound up doing 17 takes of her trying to sing, open the door and close the door — something real simple that ended up taking half-a-day to shoot because the actress/singer couldn't get it together."
Michael Schultz Was Forced To Turn Down 'Grease'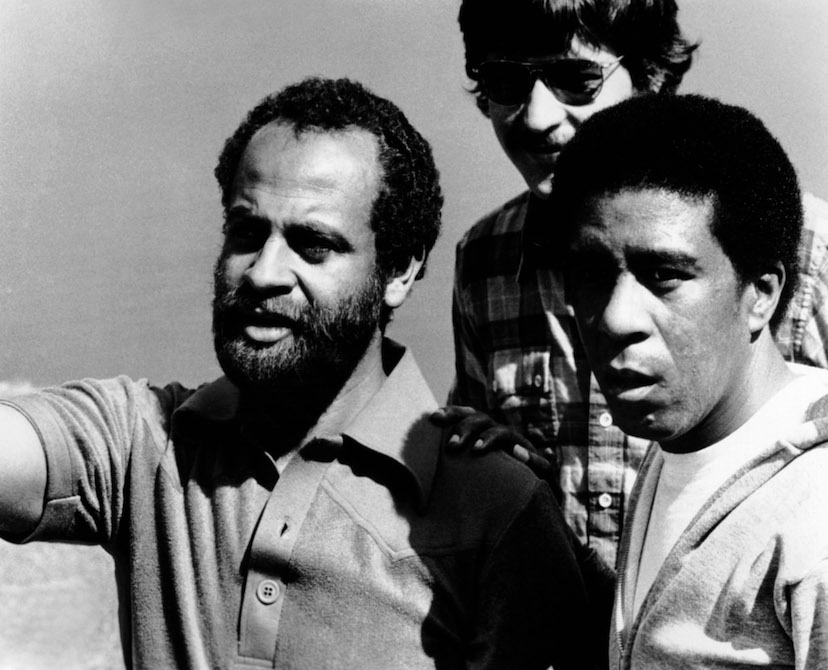 Prior to filming Sgt. Pepper, Schultz, whose background was actually in theater, providing him the opportunity to really work with actors, had directed films like Honeybaby, Honeybaby; Cooley High, Car Wash, and Richard Pryor's Which Way is Up?. It was while doing the latter that Stigwood offered him the opportunity to direct Grease.
"I was in post-production on Which Way is Up? and Travolta had a hard out of Grease; he had to be finished with the movie by a certain date so that he could get back to his show, Welcome Back, Kotter. I couldn't leave the movie I was doing, just from a personal integrity basis and had to finish it, so I had to pass on Grease. Then Stigwood offered me Sgt. Pepper as a consolation prize."
In the end, he was glad things worked out the way they did, with Schultz musing, "It was a great opportunity to do as many visual fun things that I could think of, because there was no real script. To me, it was a two-hour-long music video in the days before music videos were a thing. The other thing about musicals is that the music is so good, so effective, that it kind of lifts the spirits of everybody who's involved in the creation of it. It's almost like you're doing your job as a director, choreographer, actor or whatever, but you're driven by the music. As a result, it was an upbeat, really fun experience."
Speaking of the music, the film's score was supervised by Beatles producer George Martin, and while many of the songs felt like covers of the music of the Fab Four, there were some real standouts, mostly in Earth, Wind and Fire's "Got to Get You Into My Life" and Billy Preston's "Get Back."
"I wanted to bring some color into the film," Schultz notes. "We had prerecorded all of the music and were in the studio working with various artists who were in the film, and I wanted there to be a balance of representation in terms of the music as well as visually. With Earth, Wind and Fire, George Martin turned to me and said we should have done everybody's music this way; letting them do their own rendition of The Beatles, because Earth, Wind and Fire did a soul version of their song and it really stood out. And George Martin, I should say, was very happy to be there and to see what he had helped create back years ago take on a new form and be filmed. We had a great time together."
Sgt. Pepper's Lonely Hearts Club Band was released on July 21, 1978, and there was every expectation it would be a huge hit. After all, besides the success of the Bee Gees and Peter Frampton, in 1976 Capital Records had released the two-disc Beatles compilation album Rock 'n' Roll Music, which reached number 2 on the Billboard 200 chart, with the single "Got to Get You Into My Life" reaching number 7 on the Billboard Hot 100, playing no small role in the creation of a whole new wave of Beatlemania. There was a lot in the film's favor.
"Universal [which held distribution rights in America and England] thought we had a blockbuster," reflects Schultz. "And after the first screening that we had in Hollywood, the audience went crazy. They loved it and Universal called me up and was congratulating me on how great the job was and all of that. But the next day, the reviews came out."
And they were devastating. "It was crushing," admits Schultz. "I had to take a break from directing movies for a year and a half just to get over the disappointment. I had been doing back-to-back movies from Car Wash to Which Way is Up? and Greased Lightning, and then into Sgt. Pepper. So I was pretty burned out by that time." It wasn't long before he got back into the director's treat, and has worked consistently since then.
There's an important thing to note about Sgt. Pepper's Lonely Hearts Club Band: the film is perceived to be a flop. The truth is, it had a reported budget of $13 million and grossed $20.4 million in the United States and Canada and while foreign grosses aren't available, it apparently did quite well in different countries. And as Schultz explains it, he made more money on profit participation on Pepper than he had in his previous three films combined.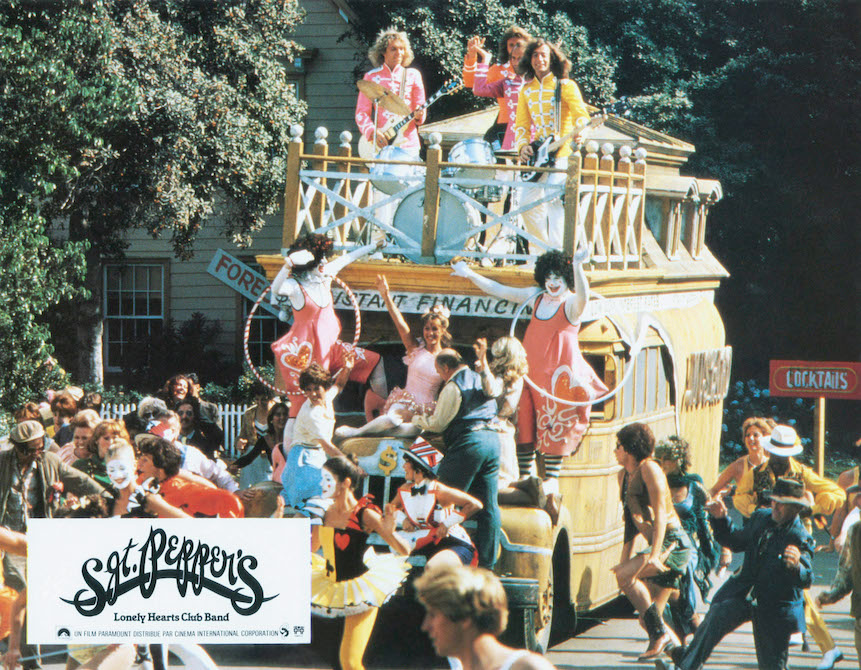 Despite critical comments, the director remains fond of the finished film, feeling it was very successful in terms of achieving what he had set out to do, which was to create a story that did not have to be told through dialogue.
"My whole concept, again, was let's come up with interesting visuals and let the music drive those as much as possible to tell the story about how innocent, talented music artists from the middle of the country get seduced by fame and the record industry. But the critical response did force me to step back to get recharged and recentered. When you're putting all of your energy out there, your life gets out of balance. I think why I'm still working as a director and in the business and still having fun doing it is I found the way to create the balance and having a normal life while telling the stories that I think are important to tell.
"I'm still having fun doing it," enthuses the 84-year-old, "and it doesn't seem like work doing it. People ask me, 'When are you going to retire?' and I say, 'Well, does anybody ever retire from fun?'"