FRIDAY JUNE 9, 2023: Admittedly this was officially Day 1 of Superman Celebration, but given that I started yesterday, we find ourselves in some strange sort of time paradox. In either case, it was an interesting day. For starters, there was a rededication of the 15-foot Superman statue outside the Massaic County Court House — which, sadly, I did not witness as I was running late in my hotel room this morning. By all reports, though, it was very exciting and I'm sorry i couldn't be there.
Sam J. Jones, star of 1980's Flash Gordon, took the CNB Metro Tent stage for a Q&A with the audience. I missed that, too, though I hear he was entertaining (despite the fact he tended to meander a bit when asked questions, going off in unexpected tangents). Still, sounds like a lot of fun and I'm sorry I missed it. Especially the epic team-up that followed between Metropolis' official Man of Steel (Josh Boultinghouse) and Flash.
The Super Museum hosted a ribbon cutting ceremony for the new "Greetings from Metropolis" mural located at 7th and Market Streets … and, yes, I missed that, too!
Which brings us to the place that I actually did get to: the SICIL Artist Alley & Writer's Way, where I and a number of others — among them artist Steven Walden, The American Way authors Bonnie Siegler and Helene Stapinski, artist Jamal Igle and artist Trina Robbins — basically sat behind our respective tables in hopes that fans would stop by and say hello or make a purchase.
Truthfully, I had my doubts. I was there to promote and sell copies of my Superman oral history from Nacelle Books, Voices from Krypton, once again feeling a bit out of my element as I initially had being interviewed by various podcasts. This was the first time that I'd be doing this, taking myself out of my usual comfort zone of conducting interviews. But in the end, it was a pretty positive experience. First of all, I was shocked at the number of people who were aware of the book and came over to talk about it, asking me questions on how it all came together, who my favorite Superman was and various areas of the Man of Steel's history. It was actually pretty great, and I sold a decent number of books.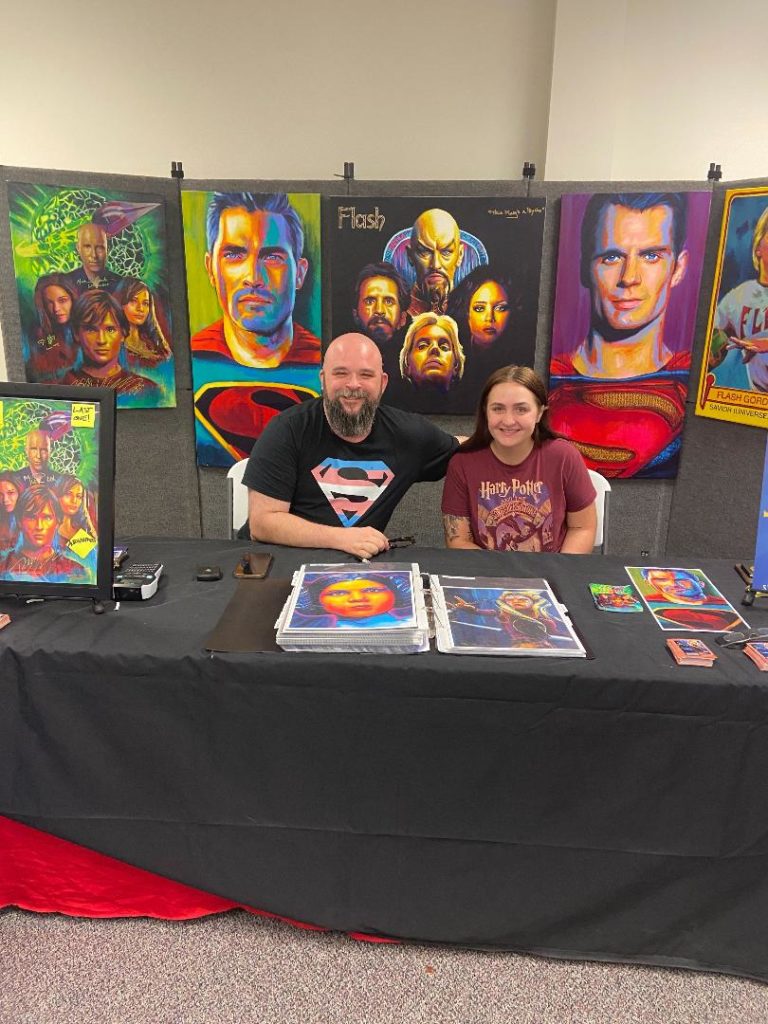 But there were other highlights, among them the sheer enthusiasm of Alderman (aka City Council Member) Al Wagner, who discussed his fairly recent career shift and the fact that he had become so passionate about both superheroes and monsters. It was a short, but fun chat, and he bought a book (yes!), marred only by the fact that he asked me to sign it — as did everyone who got a copy. Maybe that was a big deal for him and them, but every time I signed a book — every time — the image that kept popping into my mind were all those elementary school report cards that featured a looming "U" for unsatisfactory when it came to penmanship. Unfortunately, things haven't really improved.
The aforementioned Josh Boultinghouse appeared and, given the enthusiastic reaction from those in the "alley" (room), he truly did and does project a Superman-like presence about him as he made his way around the room, eventually getting to Walden's table, which happened to be next to mine. He enthusiastically posed for photos, particularly with the artist and a print of a painting Walden had done of him.
Next up was actor Nicole Maines, who played Dreamer on the television series Supergirl, and who had come from an autograph session with co-star Jesse Rath, portrayer of Brainiac-5 on the show, who made her way around the room, early on drawn to Walden's table, his art proving to be something of a magnet for people. Nicole was loud and hilarious while expressing views on different subjects, among them that her favorite Star Wars movie was Episode II: Attack of the Clones, despite the insanity of Padme still going through with her marriage to Anakin following his admission that he's killed the Tuskan Raiders, including the women and children. The re-enactment of that moment actually made the prequel film almost worth it.
All told, this created something of a party atmosphere in Artist Alley & Writer's Way, which I wasn't really expecting. And throughout all those hours, I came away with the same feeling that I had when writing Voices from Krypton: the sheer love that so many people have for the character of Superman, whatever version that may be. And what better way to celebrate that than at …. er … Superman Celebration?
Tomorrow is going to be the big day: at 10AM I take the stage do discuss VFK, with Superman Supersite's Neil Cole serving as moderator. Let's hope I get there on time.
READ PART 3 OF THIS STORY HERE