Superman Celebration 2023 came to a close yesterday and as I returned to my hotel room, I found myself reflecting on the weekend that was and actually feeling sad that it was over. Admittedly there are a lot of people who probably feel that way, but my personal response is a little surprising to me given what my past perceptions of the event have been.
I attended for the first time in 2018, covering it for closerweekly.com. Already annoyed that I had to take a plane from New York to Chicago, and then have a three-hour layover to take a connecting flight Paducah, Kentucky ("What the hell is 'Paducah?'" I asked on more than one occasion). Upon arrival, I couldn't help but think that the airport felt like a warehouse with a landing strip and as I entered the "terminal," I noted and shrugged at the two display cases containing Superman memorabilia. I'm not sure what I expected, but something perhaps a bit more expansive.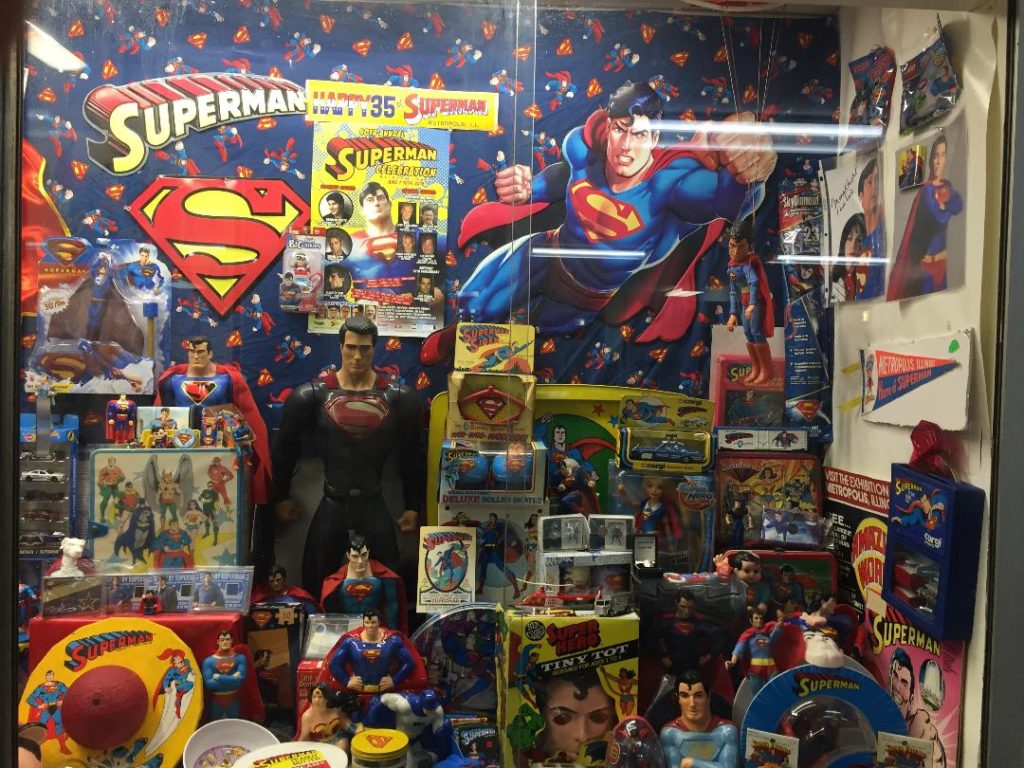 I attempted to contact a taxi, only for the phone to ring repeatedly without answer. I asked someone at a rental car desk if there was an Uber I could contact, and was told that the Uber only ran on the weekend(!). Flummoxed, I ask the rent-a-car lady if there were any alternatives. "Well," she said hesitantly, "there is one, but I have to tell you: she's a racist and she smokes." Assured that I would get from the airport to Harrah's Metropolis, I called for a ride.
And, yes, she was a racist and she did smoke.
I checked into Harrah's and quickly made my way to the famous Massaic Court House and Superman Square where the 15-foot Man of Steel statue stood, but as I began walking down there, I felt myself filled with a bit of concern, given the state of some of the buildings en route.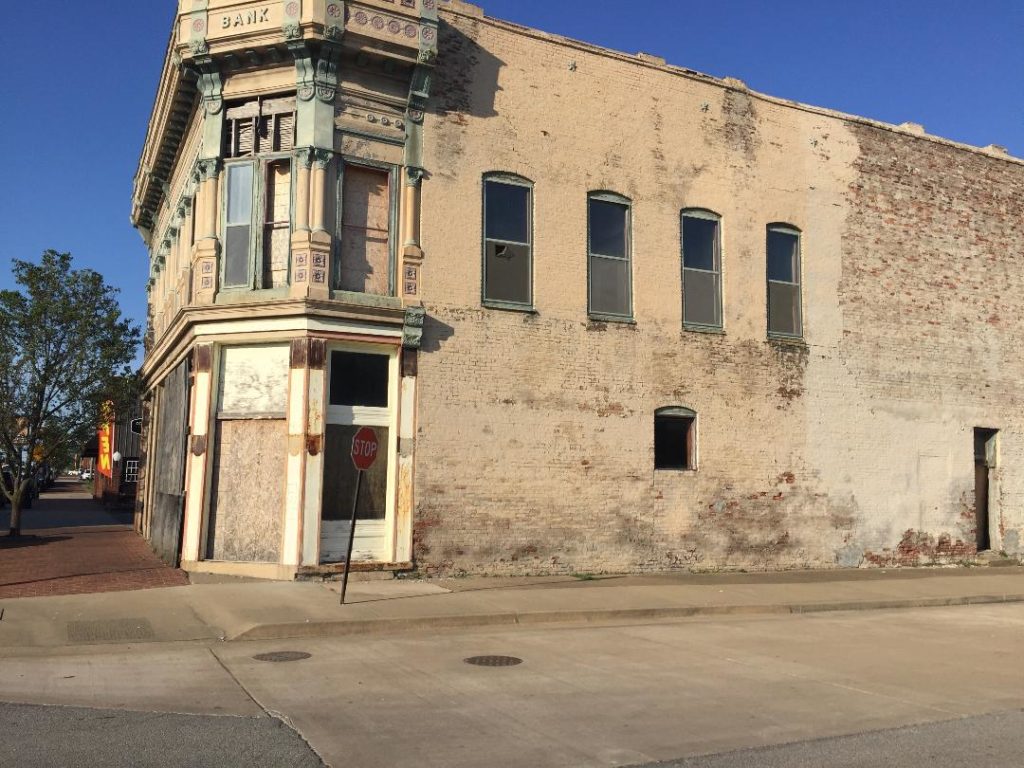 "Where am I?" I mumbled to myself, eyes darting everywhere.
Finally, and following signs with arrows, I made a left and walked down a block, definitely not reassured by a closed and dilapidated movie theatre, my first thought being, "They should get this thing refurbished and run Superman programming during Celebration," though I did away with that thought given what I'd seen so far.
Things began to change when I made another turn and approached Superman Square, and the first in a number of blocks that had been closed off to traffic. There was the statue and I got a charge of excitement. How incredible that a city — or at least this portion of it — would be devoted to the character that I'd loved since childhood. I began walking forward and passed a large tent (unaware that that's where much of the programming would take place) and beyond that the Super Museum that I'd heard so much about. Sitting in front of it was its proprietor, Jim Hambrick, who I was certainly familiar with and who became my first interview subject there. When we were finished talking, he invited me in to take a tour of the Museum.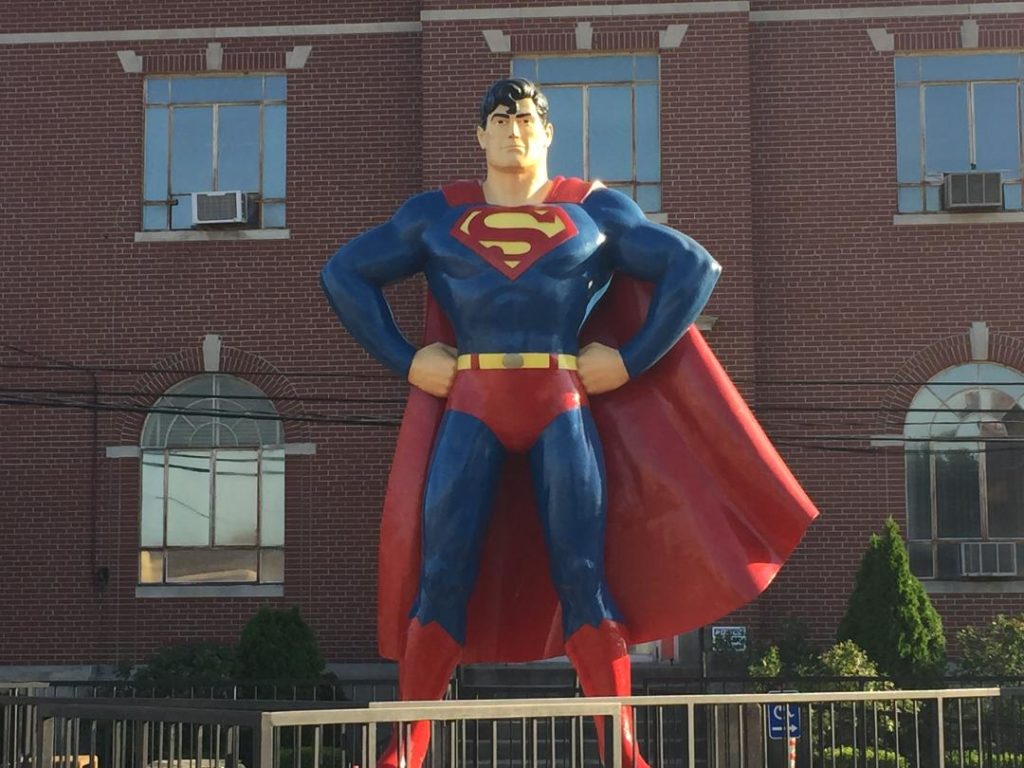 As anyone who has done so will attest, Jim and now his daughter Morgan Siebert and husband Adam, have filled this place with an incredible amount of memorabilia spanning every portion of the character's then-80-year-old history.
Once that had been completed, I started walking down the five or six blocks that made up Celebration, food vending trucks dotting either side of the street, people selling various crafts and products, some reflective of Superman and others not. Further down, there were large inflatables that little kids played in. And it was at that moment that I looked around and thought to myself, "If The Andy Griffith Show threw a convention, this is what it would be." I wasn't necessarily being complimentary.
The rest of the weekend was productive in that I was one of the few people to sit down with that year's main celebrity guest, Brandon Routh (who I'd interviewed several times before and who, I should self-plug, would end up writing the foreword to my just published oral history of Superman, Voices from Krypton). On top of that, I spoke with Supermen: World War writer/director Danny Callahan, and that indie film's star, Kevin Thomsen, who looked amazing in the character's Golden Age costume. He also, it should be pointed out, played Superman himself (more in suggestion than full-on footage) in the pilot for the Supergirl TV series. I even got to chat with Metropolis, Illinois' official Superman, Josh Boultinghouse, who is still thrilling visitors to this day.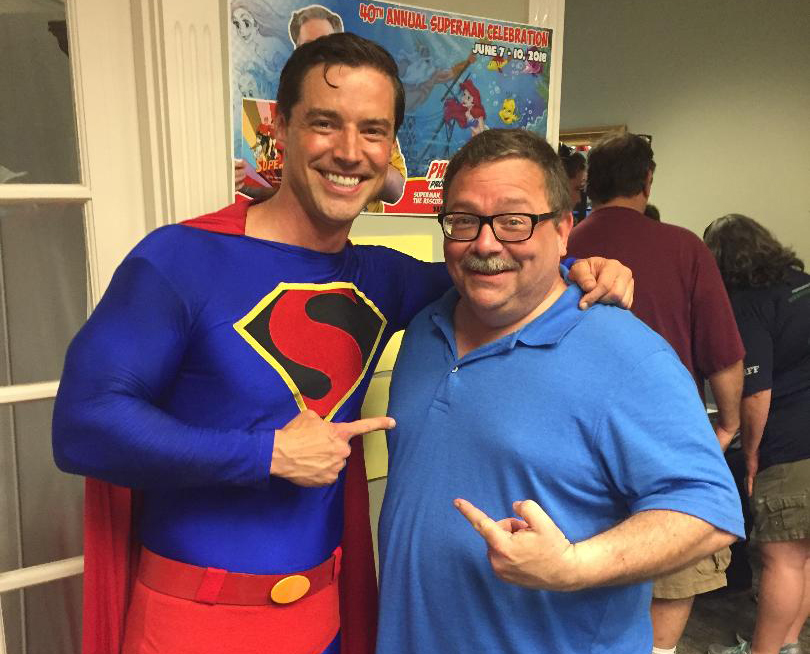 If I had any complaints, it was the consistent temperature of 94-degrees, which was a killer walking over from Harrah's; and the feeling that I didn't need to be there for the full four days (which was the length back then) as "once you've done it, you've done it."
On that Monday, I headed back to the airport for home, feeling that I'd now done Superman Celebration, and probably wouldn't have to do so again. Besides, my main convention focus was San Diego Comic-Con, which I'd walk out of with between 50 to 60 interviews.
Flash forward four years, and Mr. Arrogant was a little more humbled. COVID had hit, devastating so many lives and my personal story is that it took my entertainment journalism job of 20 years and many of my freelance outlets. In response, I turned to book-writing full time, something I'd been doing on the side anyway, and this is where Nacelle Books stepped, enthusiastically signing me up to write my dream oral history project on Superman, which I'd always intended to title Voices from Krypton.
By June 2022, I was winding down on the writing of the book, but thought that one final visit to Metropolis was in order to see what last minute additional interviews I could score. Attending that year were Tom Welling and Michael Rosenbaum of Smallville, who delighted the gathered audience during their Q&A session in the main tent; and George Newbern, who made his debut voicing the Man of Steel in the Justice League animated series, and continues to do so on and off to this day.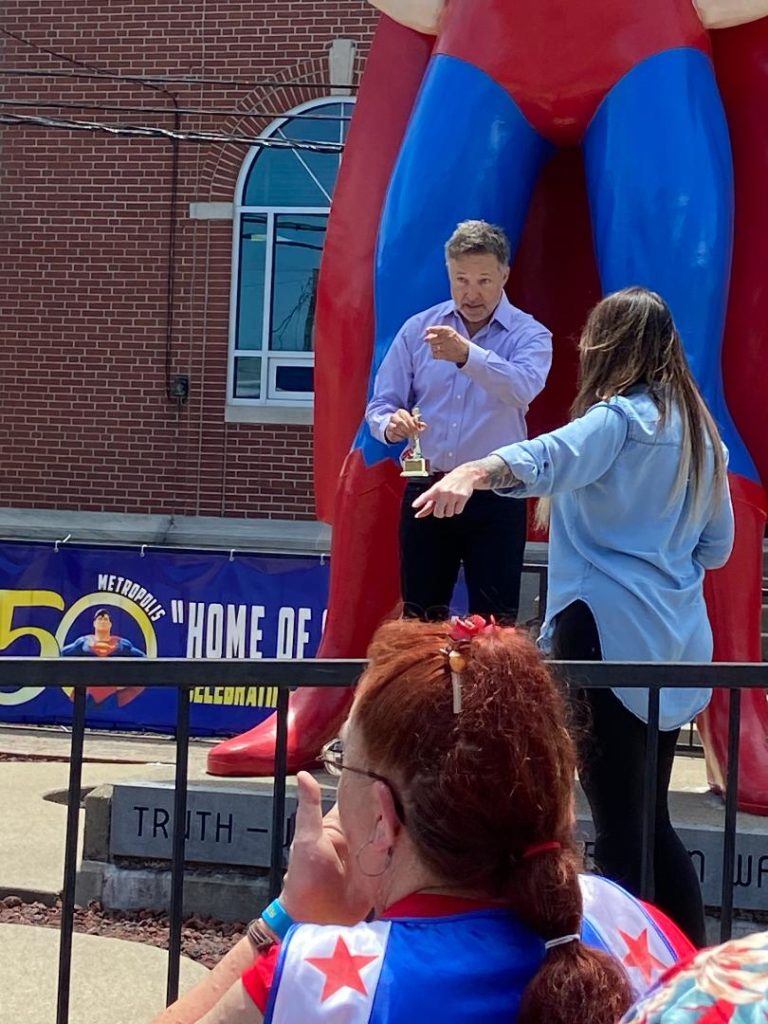 In many ways, the event was pretty similar to what I'd experienced four years earlier, albeit the celebrity line-up was different and this one was only three days long. I still had that Andy Griffith Show feeling, but felt a little more positive about it.
Now join me as we travel to 2023 and the just-completed Superman Celebration. This time, I was an invited guest, brought in to talk about Voices from Krypton, truly the crowning achievement of my book-writing career. And, as I've been chronicling, it was pretty incredible. On Saturday June 10th, I took to the stage and engaged with gathered fans, talking about the journey of writing the book, my feelings regarding Superman in general, and taking questions from the audience, all of it moderated by Superman Supersite's Neil Cole.
And outside of that — and visiting Morgan at the Super Museum — I spent the vast majority of the weekend in Artist Alley/Writer's Way in the basement of the SICIL building, where each day I engaged with people who came by the table, some to buy books and others just to chat, but all of it delightful (not hurting were the praises I received for the on-stage presentation — I try to be humble, but c'mon!).
Along the way I made some new friends, among then a trucker (along with a variety of other trades) and veteran named "Turtle," who I rode down the Harrah's elevator with, commenting on his Superman shirt. As we both approached the restaurant, he turned to me and said, "You meeting people? If not, why don't you join me?" I agreed and we had a great chat, with him driving me over to the SICIL building, coming in and spending the day with me, turning out to be my biggest cheerleader to everyone who happened by. I really couldn't believe it, but his friendliness and good nature was indicative of many of the people I've met on my trips to Metropolis.
As I write these words, it's 4:30 in the morning on Monday June 12 and I'm getting ready to check out for the trip home. At this moment, I'm sitting here seriously considering coming back again next year. Comic-Con may be over for me for the time being, but Superman Celebration — and many of the people of Metropolis — are so damn charming and irresistible that it's becoming more and more like a magnetic pull.
Before I came here this year, I was speaking to Nacelle Books who wanted to know what they could do to help; perhaps they could send over a powerpoint presentation or something. I responded with my usual line about Celebration, "You don't understand. This is very low tech. If The Andy Griffith Show threw a convention, it would be this."
But this time, I meant it as a full-on compliment. Unless you've experienced it yourself, you just don't get it.
To read Part 1, please click HERE.
To read Part 2, please click HERE.
To read Part 3, please click HERE.
And to order your own copy of Voices from Krypton, please click HERE.